Skyline & University of Guelph Green Roof Project on Forbes.com
January 9, 2014 - Press Release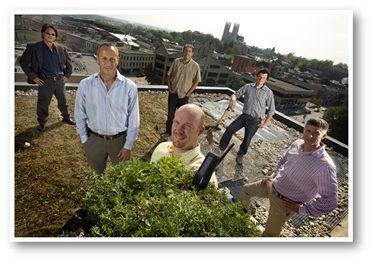 Click here to view the original article as it appears on Forbes.com.
November 26, 2013
How environmentally green, really, are so-called green roofs like the one that's on top of the Walmart store in north Portland?
Just as wireless sensor networks increasingly are helping building owners and tenants keep track on energy efficiency and water conservation inside, they are also at the center of several new research projects – including one at the aforementioned Walmart site – that aims to build a better understanding of their performance.
After all, it isn't all that practical or safe for this sort of information to be collected manually by humans.
About Skyline Apartment REIT
Skyline Apartment REIT (the "REIT") is a privately owned and managed portfolio of primarily multi-residential properties, focused on acquiring both established and newly developed properties in secondary and tertiary communities across Canada.
Skyline Apartment REIT is distributed as an alternative investment product through Skyline Wealth Management Inc. ("Skyline Wealth"), the exclusive Exempt Market Dealer for the REIT.
Skyline Apartment REIT is committed to providing best in class apartment suites and service to its residential tenants, while surfacing value with a goal to deliver stable returns to its investors.
To learn more about Skyline Apartment REIT and other alternative investment products offered through Skyline Wealth, please visit SkylineWealth.ca.
Skyline Apartment REIT is operated and managed by Skyline Group of Companies.
For media inquiries, please contact:
Jeff Stirling
Director of Marketing, Skyline Group of Companies
5 Douglas Street, Suite 301
Guelph, ON N1H 2S8
(519) 826-0439(519) 826-0439 x 243