Skyline Apartment REIT Acquires Additional Oshawa, ON Property
March 11, 2008 - Press Release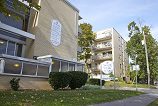 Skyline Incorporated of Guelph, Ontario announced March 11, 2008, the close of a $9 million portfolio acquisition in Oshawa, Ontario adding to its existing multi-residential and commercial real estate portfolio. This acquisition brings the Skyline Apartment REIT's current market value to $215.235 million.
The Oshawa acquisition is the fourth in the city for Skyline and encompasses 123 residential suites.
The three buildings are located at 50 Adelaide Street and 290 – 300 Mary Street in Oshawa. The acquisition expands Skyline Apartment REIT's eastern portfolio, which immediately provides the management with opportunities to leverage upon existing economies of scale. This property is the thirty-second property purchased by Skyline since amalgamating its holdings into a private Real Estate Investment Trust ("REIT") on June 1, 2006.
Jason Castellan, Chief Executive Officer of Skyline Incorporated remarked, "Here is a perfect example of a property that we have identified as terrific bricks and mortar that is extremely under performing. By already owning property in the immediate area, and researching other properties around us, we realized that Mary and Adelaide is currently achieving rents $200-$300 below potential. The existing clientele is very stable, made up of seniors, and there is a higher than usual vacancy due to lack of promoting the property, that makes a good part of that potential rent to be achieved in a very short period. There are many other parts that make this such a tremendous deal. We will work to surface that value to the benefit of all those investors in the REIT."
Skyline Incorporated was formally incorporated in 1999 by its three partners, Jason Castellan, Martin Castellan, and (Roy) Jason Ashdown. Skyline Incorporated, as asset manager for Skyline Apartment REIT, is focused on building an accretive $500 million real estate portfolio (Vision 2010). The Skyline Apartment REIT currently holds 3,693 residential suites and 267,070 square feet of commercial space. Moving towards this vision, Skyline Incorporated takes pride in its ability to continually identify accretive real estate investment opportunities to complement its growing REIT portfolio.
For media inquiries, please contact:
Jeff Stirling
Director of Marketing, Skyline Group of Companies
5 Douglas Street, Suite 301
Guelph, ON N1H 2S8
(519) 826-0439(519) 826-0439 x 243