Skyline's Founding Partners Speak at Guelph Homebuilders' Association's 19th Annual Business Community Luncheon
April 16, 2013 - Press Release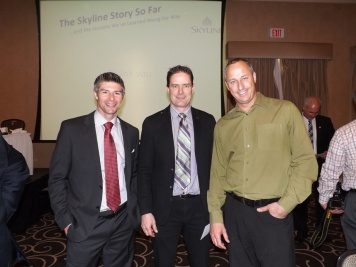 This event was covered by the Guelph Mercury – click to view the article, 'Brothers Share Skyline Realty Highs and Lows'.
On Tuesday, April 16th, Skyline's Chief Executive Officer, Jason Castellan, and his brother, Chief Development Officer Martin Castellan, spoke about the company's humble beginnings, great achievements and lessons learned to over 300 attendees at the Guelph & District Homebuilders' Association's 19th Annual Business Community Luncheon at the Delta Guelph Hotel.
With a humorous and down-to-earth approach to their presentation, Jason and Martin discussed the evolution of Skyline from one student rental house to two substantial REITs, all while keeping the company local. They reiterated several key "business lessons to live by" that are relevant and applicable to every business owner.
For media inquiries, please contact:
Jeff Stirling
Director of Marketing, Skyline Group of Companies
5 Douglas Street, Suite 301
Guelph, ON N1H 2S8
(519) 826-0439(519) 826-0439 x 243